The Monastic Way
"Mary of Nazareth shows us the sanctifying power of a human being who has become fully human," Joan Chittister writes.
Each month of the 2020 Monastic Way focuses on an aspect of Mary's holy humanity—inner peace, compassionate relationships with others, and strength—illustrated with vibrant, multicultural paintings by Mickey McGrath, OSFS.
With a re-designed format which now offers mantras and prompts for reflection and action, in addition to day-by-day thoughts from Sister Joan, the 2020 Monastic Way will guide you to become fully human, too.
$12.95/year gives you the online version that includes full access to The Monastic Way website and a pdf version emailed to you each month. SUBSCRIBE HERE
See a sample issue of the 2019 edition and download the PDF.
Gift option. Purchase an online license that allows you to forward the monthly pdf version to your family and friends. MORE INFORMATION HERE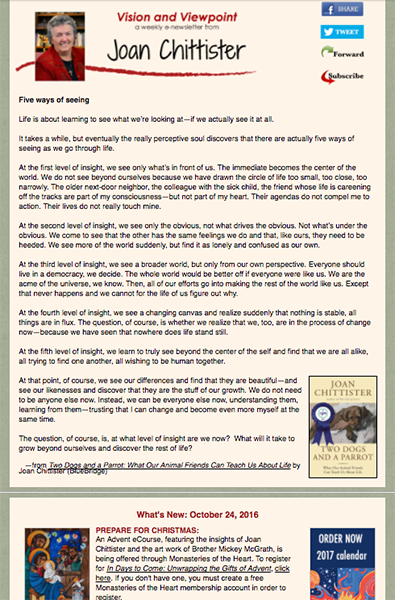 Vision and Viewpoint
Vision and Viewpoint includes Sister Joan's FREE weekly message Ideas in Passing. It also includes news, poems and more. Subscribers to this weekly email newsletter also receive notice of Sister Joan's new book releases, open registration for online courses, special pricing on books and spirituality materials and other helpful information.
Monasteries of the Heart Practices
Monastery of the Heart Practices is a members-only weekly newsletter from Monasteries of the Heart. It invites members to form a monastic heart by participating in the main elements of the living monastic tradition: prayer, lectio, good work, study and community.
Create your free membership account here.
If you are a member and do not receive this weekly, log in at Monasteries of the Heart and go to your account page. Under the "Newsletter Subscriptions" tab you can check the box to be added to the list.